About Price Looper
Price Looper is an online platform that allows golf associations, individual golf courses, and other golf-related businesses to sell green fees and stay & play packages via the Internet.
Why am I seeing a charge from Price Looper on my credit card?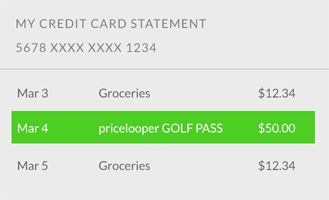 Have you recently bought a golf package online? Here is a list of courses we partnered with recently.
We also partner with state and municipal golf associations such as The Southern California Golf Association, Carolina Golf Association, and New York State Golf Association. Here is a list of associations we partner with.
If you have any questions regarding a Price Looper credit card charge, please contact us and we will clear it up!
I have a question about my Price Looper purchase.
If you need golf passes re-sent, discuss issues with a golf course or any other assistance, please contact us.
The Price Looper program is designed and managed by UnderPar.
Price Looper's email marketing programs have helped golf courses generate tens of thousands of dollars in additional revenue. Join the ranks of the SCGA in developing and monetizing a Member Advantage Program. For more information, visit our partnership portal.